Anniversary Celebration !
Sunday, May 17th, 2015, 3:00 – 6:00 PM
QUEENS MUSEUM
NYC Building, Flushing Meadows Corona Park
CINEMAROSA, the monthly Queer film series of New York City celebrates its monthly screening presentations with films from Mexico and India. The special anniversary presentation includes the screening of MUSICA OCULAR (Eye Music) directed by Mexican filmmaker José Antonio Cordero Regards, and the short film from India, BIG TIME: MY DOODLED DIARY directed by Sonali Gulati.
After the screening, join us for an informal gathering to toss for our 10th Anniversary !
About the films:

MÚSICA OCULAR (Eye Music)
Dir. Jose Antonio Cordero
Mexico, 2012, 95 min.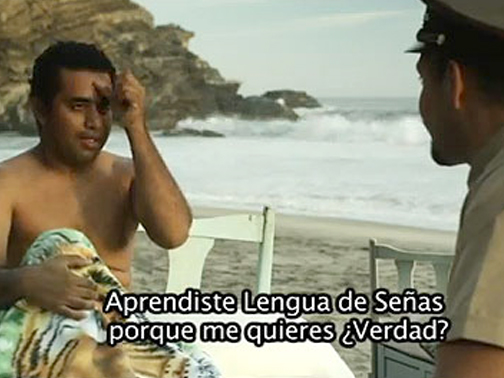 In a southern Mexico village, young deaf students are taking on an unusual challenge: to make a movie out of their dreams. While Eric and his friends watch films and discuss ideas, their dreams begin to work their way into the documentary itself. Both a study of the students lives and a cross-link between silent films, sign language and culture of the Deaf.
"Musica ocular" is the first feature film in Mexican Sign Language. It was mainly created by filmaker Jose Antonio Cordero and a group of young Deaf after a two year film workshop leaded by the filmmaker. During a visit to a seashore Jose Antonio came across Eric, a young villager who tried to communicate with him using sign language. At that very moment he realized that himself (and not Eric) was a disabled person. By learning Sign Language Jose Antonio discovered what he thought was a very deep link between this visual means of communication and that of cinema (especially in silent films). The director decided to confront both challenges through making Eric and his friends live the moviemaking experience.
Jose Antonio Cordero is a mexican theater director, filmmaker and video artist. His first film "The fourth house, a portrait of Elena Garro" was nominated by the Mexican Film Academy as Best Documentary in 2002. He has directed the long feature documentary "Bajo Juarez, the city devouring its daughters" that was part of the World Competition at Sundance 2007, IDFA 2007 and won the first prize at Cinesul 2008, San Diego and Chicago Latino Film Festivals that same year.
BIG TIME: MY DOODLED DIARY
Dir. Sonali Gulati
India, 2014, 11 min.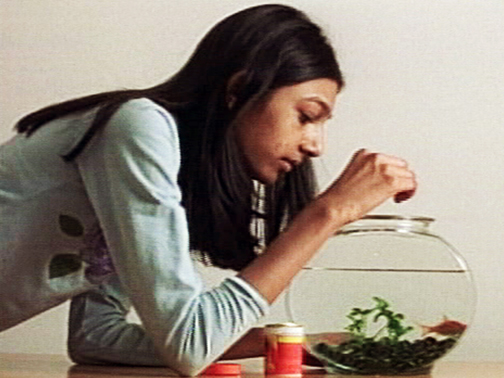 A personal diary of a 13-year old girl named Maya dealing with puberty, pop culture, and her parents getting divorced. Doodled diary entries sketch an intimate journey of a closeted teenager growing up in the 80's in India, negotiating her independence and freedom, and discovering the complexities of gender and sexuality.
" As a South Asian woman living in the United States, I have found myself keenly interested in the politics of "representation" in mass media. I find myself drawn to the kind of self, subject, and subjectivity portrayed in film. These are issues that I have grappled with and continue to explore in my own creative work. I am most interested in making films that create a stronger presence for diverse, under-represented, and silenced voices. My work fuses art and politics from a place of passion for activism and determination towards social change. I often ask myself: Why this film? Or more importantly: Why am I making this film? As a result, my work is driven by deeply personal motivations that strive to strengthen the connection between myself and my work as a filmmaker."
Sonali Gulati is an independent filmmaker, a feminist, grassroots activist, and an educator. She is an Associate Professor at Virginia Commonwealth University's Department of Photography & Film. She has an MFA in Film & Media Arts from Temple University and a BA in Critical Social Thought from Mount Holyoke College. Ms. Gulati grew up in New Delhi, India and has made several short films that have screened at over three hundred film festivals worldwide. Her most recent film I Am has won 12 awards and continues to exhibit extensively in the film festival circuit. Gulati has won awards, grants, and fellowships from the Third Wave Foundation, World Studio Foundation, the Robert Giard Memorial Fellowship, the Virginia Museum of Fine Arts Fellowship, the Theresa Pollak Prize for Excellence in the Arts, the Center for Asian American Media (CAAM), VCU School of the Arts Faculty Award of Excellence and most recently a grant from the Creative Capital Foundation.
About the film series:
CINEMAROSA is a monthly, independent, film program created in 2004 by interdisciplinary artist, and cultural entrepreneur, Hector Canonge. CINEMAROSA's mission is to promote, and present Queer independent films and videos by local, national, and international filmmakers. The monthly program encourages discussion forums among guests and participant filmmakers in order to create a cultural cinematic hub around LGBTQ issues and concerns. CINEMAROSA has been recognized as the leading independent LGBTQ film program in NYC featuring works that best reflect the diverse experiences and lives of LGBTQ peoples around the world. CINEMAROSA has co-produced events such as Queerin' Queens, Rosalicious, and Gayleria in New York City; E. V. A (School for Alternative Filmmaking) in Corona, Queens, and the monthly literary reading inQbator at Word Up: Community Bookstore in Washington Heights, Manhattan. In 2011, CINEMAROSA received a Proclamation by the City of New York, through the office of Jackson Heights Councilman Daniel Dromm. The monthly free screening program has featured local, national and international filmmakers whose works best reflect the diversity of lives in experiences in the LGBT community.
More information:
www.cinemarosa.org
cinemarosa.blogspot.com
Facebook: www.facebook.com/cinemarosa
Twitter:@cinemarosa
Contact: cinemarosa@gmail.com
Directions:
Queens Museum: #7 Flushing Trains from 42 Street or E, F, V, R Trains to 74th Street & Roosevelt Avenue, change for #7 Train (Flushing Bound). Exit at Citi Fields Shea Stadium Station, walk in the direction of the park. Museum is located in front of the metal globe, the Unisphere.
###